A BALL CAN CHANGE THE LIFE – TOKYO HOSTS SPORT SYMPOSIUM TO DISCUSS THE VALUE OF SPORT FOR SOCIETY AND CULTURE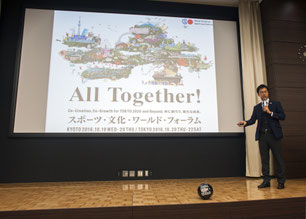 On October 22 in 2016, a symposium "A ball can change the Life" took place. As the official side event held by the Ministry of Education, Culture, Sports, Science and Technology (MEXT), Japan Sports Agency, and the Agency for Cultural Affairs, it was discussed what kind of values sports can convey and how sports could play roles not only at Tokyo 2020 Olympics and Paralympics but also in Japanese society through "cultures" and "sports."
The symposium began with an opening speech by Mr. Yoshiki Hiruma, a coach of Nobushi Japan. Mr. Kohzo Tashima, president of JFA and FIFA council member, took the stage after Mr Hiruma. "Soccer is one of the most popular sports in the world. That is why there is something that can be achieved through soccer. Let us think about the possibilities," Mr. Tashima said. He continued, "Today, we have some serious social problems all over the world. When you play soccer, you can overcome the language barrier and become teammates with anyone. It makes me believe that it can be possible to solve any problem we are facing by the power of sports. And we, JFA, would like to support and encourage all of the people who enjoy soccer as a soccer family." The audience felt united and part of the "soccer family" through his welcoming words.
The first part of the program was a keynote speech by Ms. Rachel May, International Partnership Manager of the Homeless World Cup. Whilst showing a video of the tournaments, she talked about the transition of the tournament and about some social impacts achieved by the Homeless World Cup. "The Homeless World Cup gives players a lot of opportunities to change their lives. Moreover, we are aiming to change people's perception of and their attitude toward homeless people through the tournament," she said. With respect to the potential of sports, she showed some examples of change occurring during the tournament: "Glasgow 2016 was covered by the press  from 22 countries, and 3.3 million people were watching the games online, 1.8 million people of them on live. Also, 84% of the spectators in the city recognized that the tournament changed their views of "homeless people", and were proud that their city had hosted the event.
For the second part of the programme, a panel discussion was held on the topic: "How can soccer and futsal be a solution for social problems?". All five participating panelists work on solving social problems through sports. Ms.Atsuko Itokazu, a representative of the association daimon, hosts "daimonCUP" which is one of the biggest futsal tournaments for women in Okinawa. The concept of the tournament is "to create a place which is filled with support and appreciation."  The daimonCUP welcomes not only the players but also the supporters and it helps to mobilise the local community against poverty and isolation. She spoke about how sports attracts many people and that any player could feel equal and their status is irrelevant once they enter a sports field.
Mr. Katsuhiko Hibino, an artist whose practice combines art with sports and chairman of Committee for Social Responsibility, finds meaning and opportunities in sports, through its nature to move people and in its structures and rules. "Sport events have structures such as an opening ceremony, the athlete's oath, and an award ceremony, and offer different forms of participation that are not limited to playing, but also cheering from the stands. This makes it possible for all people to share their emotions regardless of whether they are professional or amateur, or whether it is a tournament for children or World Cup for top-class athletes."
Mr. Yoshiki Hiruma, a coach of Nobushi Japan, said that it was now the time for Japanese society to think about sports and cultures again in the lead up to the 2020 Olympic and Paralympic Games. "The relationship between sports and the society is a subject for each one of us as the one who accepts it, isn't it? We have also been asking ourselves, "What is diversity?" We'd love to and hope to continue The Diversity Cup and work as Nobushi Japan does— not only with specific groups but with many more people from across Japan and all over the world."
In addition, Mr. Tomohiro Hasegawa, who is in charge of The Big Issue Japan Foundation's soccer programme, believes a benefit of sport is that challenges and failures are allowed. On the other hand, he added, "We should consider an aspect of sports that excludes people in that you can easily figure out the results by its numbers."  He spoke about the importance of understanding how each individual participant is progressing or changing during games, and that "sports have truly been ingrained as a culture, when more and more people appreciate such a process and support it", suggesting that the Homeless World Cup might embody such values.
In order to host the Homeless World Cup, we need a framework for cooperation with citizens, companies, and the administration. However, if you consider the current situation of Japan, it is hard to claim that we have enough backup to host a worldwide event. However, in the meantime, it would be a big step for us to be able to receive support from the JFA. It is important to further unite all citizens, companies, and the government administration.
The Big Issue Japan Foundation has held a futsal event, "The Diversity Cup", for people from different social backgrounds who have faced different social challenges in the past two years. During the symposium, participants showed interest in the Diversity Cup as something unique in Japan. It is a valuable choice for Nobushi Japan to aim towards participation at the Homeless World Cup tournament as the National Partner in Japan and we understand that it would be a breeding ground to change public perception towards homeless issues in society. However, since the situation and problems associated to homelessness is different in each country, because of different social contexts, it would be necessary to make activities more suitable for Japan recognising its differences.
At the Diversity Cup, people with different social backgrounds and difficulties get together. By spending time together playing soccer, they learn to respect each other and appreciate diversity. Encountering people who are different from themselves brings about some changes amongst the participants.
It could be said that the Diversity Cup embraces the true values of sports and will be a touchstone for Japanese society as host of the upcoming 2020 Olympic and Paralympic Games.
This symposium was held under the joint sponsorship of Sports for Social Inclusion Executive Committee and The Big Issue Japan Foundation, and with the support of Japan Football Association and Sompo Japan Nipponkoa Insurance Inc. We deeply appreciate your cooperation and support.
https://www.homelessworldcup.org/news/ball-can-change-life-tokyo-hosts-sport-symposium-discuss-value-sport-society-culture/